GCN Trio Triumph in Teesside – Extinction Rebellion Protest
15 June 2022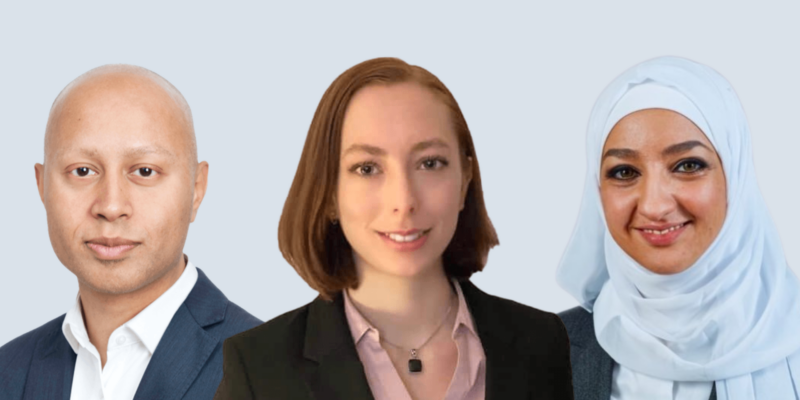 Aarif Abraham, Rosalind Burgin, and Mira Hammad, of our criminal defence and appeals team, successfully defended protestors charged with an offence under s69 CJPOA 1994, which makes it an offence to ignore the directions of a Police officer to leave the land, when a senior officer present reasonably believes that the person is committing, or is about to commit, aggravated trespass.
The defendants, all members of the environmental activist group Extinction Rebellion, were alleged to have blocked two main entrance and exit routes to an Amazon site in Doncaster by erecting and climbing onto bamboo structures and, by locking themselves to concrete blocks on the ground.
The group of 10 defendants was cleared when prosecutors were unable to prove that the protest had taken place on land belonging to the online retailer or on land that wasn't a highway and the case was dismissed. The defence succeeded in identifying fundamental deficiencies and discrepancies in prosecution evidence on the first day of a five-day trial.
The hearing took place at Teesside Magistrates Court before District Judge Mallon. Members of the group were represented by Aarif Abraham, Rosalind Burgin and Mira Hammad. Aarif and Mira were instructed by Nicola Hall of Robert Lizar solicitors. Rosalind was instructed by Aneka Thirurajah of Hodge Jones & Allen and Zachary Whyte of Montague Solicitors.
Garden Court North Chambers' team of protest rights barristers is highly regarded amongst practitioners and protest groups alike.
We are considered as one of the leading sets in the country dealing with contemporary protest issues and offer full advice and representation to protestors in both criminal and civil litigation matters. We have acted in some of the most important protest cases in recent years including R. v Roberts (Richard) [2018] EWCA Crim 2739 and Cuadrilla Bowland Ltd v Persons Unknown [2020] EWCA Civ 9.
Our team of criminal barristers specialise in criminal defence and appeals work across the spectrum through to the Supreme Court and the European Court of Human Rights. The Team consists of barristers with experience at all levels, from juniors to Queen's Counsel, and is committed to ensuring that a defendant's fundamental rights are protected throughout criminal proceedings.